How to Write an Essay on COVID-19? Find Handy Guidelines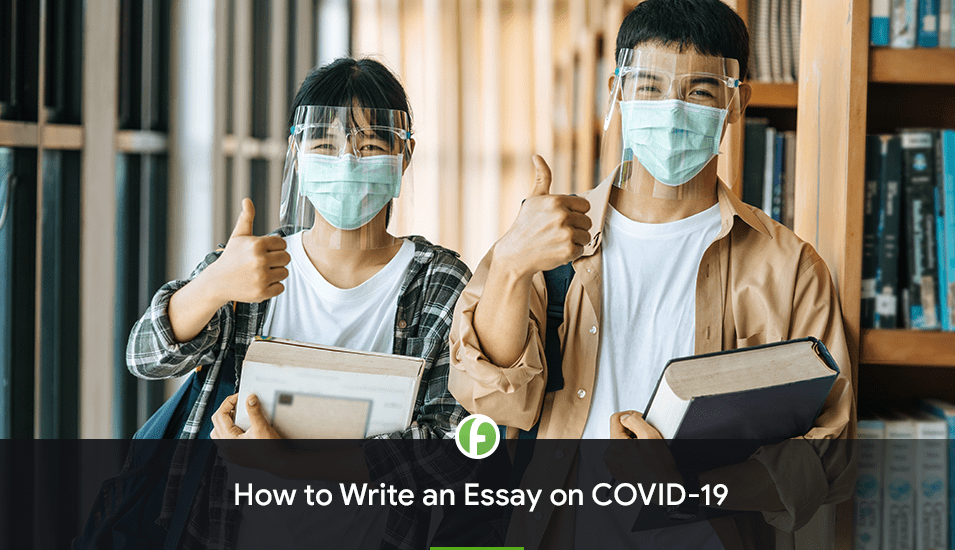 2020 has become a very difficult year for many people. We have faced a pandemic, which affected all areas of our life. The disaster that earlier seemed impossible became real. Many people forgot about in-person communication trying to save their life and health. Wearing masks, social distance, and checking on the latest news became the present-day realms. Since the coronavirus is an integral part of our life nowadays, this topic became a subject for many academic assignments. In fact, a paper on the Covid-19-related topic can be assigned at any discipline including Nursing, Business, Politics, Chemistry, and many others. If you find it too difficult to understand how to write an essay on COVID-19, you should have a closer look at our guide to figure out how to organize the writing process in an appropriate way. Although it can be pretty difficult to write a good essay, our handy suggestions will help you to cope with this task.
You may wonder what makes the COVID-19 essay different from any other type of academic essay writing. Well, this question is reasonable. As well as any other academic essay, the essay on COVID-19 should be well-written, properly structured, and formatted. You may find it too difficult to back up your arguments with credible research findings. Consequently, you will need to combine the theories explored in the past years with the current data, which is constantly changing. For an inexperienced student, completing such an assignment can be pretty tiresome and exhausting. However, in our post, we are going to help you understand how to write an essay that would please the most demanding tutor. By following our suggestions, you will be able to create a good-looking piece that will definitely bring you the anticipated outcome.
How to Write an Essay on COVID-19?
Want an expert write a paper for you?
By familiarizing yourself with our guidelines, you will be able to boost your writing proficiency:
Get prepared for writing your essay. A smart student knows that appropriate preparation is a huge step to writing a brilliant paper. First and foremost, you need to make sure that all the professor's comments are clear to you. It may seem obvious, but we highly recommend you to study the instructions thoroughly in order to understand what is expected from you. For example, you may be asked to analyze the causes and effects of the particular issue related to COVID-19 or you may write a persuasive essay explaining the necessity of vaccination. In other words, you should clearly understand the essay type you need to write, as well as additional guidelines of your tutor including the required length, number of sources to be used, formatting style, etc. Remember that the success of your paper depends on how accurately your instructions will be followed;
Choose an appropriate topic. Although there are a lot of COVID-19 essay topics for students, you need to pick up a subject that will match your research interests. If you want to make your essay interesting to your reader, you should work with the topic that resonates with your ideas. Pay attention that your topic should not be too broad as it will not allow you to build strong arguments. Remember; the more time you spend on choosing the topic, the better result you will receive at the end. For example, you may analyze the influence of the COVID-19 pandemic on human interaction or you can evaluate the effect of the pandemic on the touristic industry. We assure you that there are a lot of ideas you can explore in your paper since COVID-19 provides some space for active discussion;
Once you are done with studying your instructions, you need to collect the research materials. Although the COVID-19 topic is new and there are not so many academic sources related to it, you are free to choose peer-reviewed articles taken from the reputed sources such as the World Health Organization website, etc. Pay attention that the COVID-19 theme is very sensitive and biased, thus you cannot refer only to your personal experience. To make your essay interesting for your reader, you will need to provide interesting facts, statistics, as well as visual aids that will make your target audience interested in the ideas you are trying to convey;
Do some brainstorming. Although many students consider it a waste of time, we assure you that good brainstorming will significantly economize your time spent on the writing process. Without thorough planning, you will write your essay spontaneously. If you do not want to move from one argument to another without appropriate transitions, make sure to come up with a detailed outline. Your outline should include three main parts: the introduction, main body, and conclusion sections. Pay attention; a good outline will help you to keep all of your ideas organized in a logical manner avoiding information that is meaningless or irrelevant;
Once you are done outlining your ideas, you can start working on your essay. In the introductory paragraph, you need to present your topic and explain why it is relevant. To fuel the reader's interest, you need to include a good hook. For example, it can be a shocking fact that will make your reader follow your arguments. Although your introductory paragraph should not be too long, it should include all the necessary bibliographic information that will contextualize your topic. Finally, your introduction should include a central idea of your essay that will be proven with the help of strong arguments. In academic writing, this idea is called a thesis statement. Then, you will need to develop the main body paragraphs in which you will develop your topic. Of course, the way you write your main body is defined by the type of your essay. For example, if you are writing an argumentative essay, you will need to divide your main body into several paragraphs and include a strong argument in each of them. The first sentence of each body paragraph is called a topic sentence as it helps the reader to understand what the entire paragraph is about. Then, you will need to state your argument related to the topic. Finally, you will need to support your arguments with accurate evidence. In the last sentence of your paragraph, make sure to summarize its content. Finally, your paper should include a concluding paragraph in which you will wrap up your analysis without including new arguments and evidence. Remember that a good conclusion will help you make an impression on your reader. Thus, it cannot be written carelessly;
When your paper is written, make sure to review it. Once you are done with writing your essay, you will need to double-check if it contains relevant and accurate ideas, as well as if it meets the instructions. Pay attention that in order to receive a good grade for your paper, you need to make it flawless. You will need to proofread the text of your essay making sure it is free from grammatical and spelling flaws.
Writing a COVID-19 essay can be pretty time-consuming. However, by following our step-by-step guide, you will be able to enjoy the writing process. Give yourself enough time for writing your paper and you will definitely create a brilliant piece that will impress your tutor.
Writing an Essay on COVID-19: Common Tips
Keep your essay academic. Although you will find a lot of information about the COVID-19 pandemic on the web, you need to pick up the most credible sources. For instance, you may use the articles published by reputed organizations. Also, you need to follow the academic style of writing following the latest standards. In particular, your essay should be structured properly and formatted in accordance with the style requested by your professor;
Use up-to-date sources. As it was already told, there is enough information on the COVID-19 pandemic, but searching the relevant and credible sources is a great challenge. The information about coronavirus is constantly changing because scientists from different institutions make new discoveries about this disease every day. Most probably, the researching process will take a considerable amount of time. However, you should understand that if you want to write a good-looking paper, you will need to do your best to convince your tutor you have done everything possible to explore the topic from different perspectives;
Avoid personal bias. Of course, you have a personal opinion on the events happening around you. However, you need to be maximally objective when writing your essay about COVID-19 because your viewpoint and that of your reader may differ;
Avoid personal pronouns. You need to use the third-person pronouns unless you are supposed to write a personal essay;
Make your essay free from plagiarism. If you lack interesting ideas on writing your project, you may look for some great essays on similar topics to boost your inspiration. However, you should understand that in order to bring you a good grade, your essay should be authentic. Most probably, your teacher will check your paper through reliable plagiarism-detection software. In case the checker notices some unoriginal content, you will be strictly punished. As such, we highly recommend you write a paper from scratch following the tutor's guidelines precisely.
The best Affiliate Program
Invite your friends and get bonus from each order they have made!
Editing and Proofreading
Editing and proofreading are the final stages of the writing process, which should not be underestimated since they help to improve the paper quality. When editing your paper, you need to do the following:
Check if all the sources you have used in the paper are peer-reviewed and credible. In fact, the sources used during the writing stage serve as the basis of your work. If you use inappropriate sources, you will never get a good grade for your paper. Thus, you will need to check the credibility of your paper, as well as make sure all the ideas you have taken from the outside sources are cited correctly;
Check your paper for clarity. If some of your ideas sound awkward or irrelevant, make sure to delete or paraphrase them. To highly grade your paper, your professor should understand the flow of your ideas, as well as the main messages you are trying to convey;
Check your paper for tone. When writing an essay on such a sensitive issue as COVID-19, you will need to choose the most appropriate tone and wording. Pay attention that none of your ideas can sound offensive to your readers even if you are addressing your opponents;
Check your paper for mechanical errors. Although your paper will be evaluated mainly for your understanding of the topic, as well as the structure of your ideas, it will never bring you a good grade if it is riddled with multiple mistakes. Thus, we highly recommend you spend some time fixing all typos, as well as spelling and punctuation errors. Although you are free to use the automatic checkers, you should not rely on them too much since only thorough manual proofreading will bring you the anticipated outcome.
If you are frightened because of writing an essay on COVID-19, we assure you that this process is not as difficult as it may seem. By applying your best writing, researching, and analytical skills, you will be able to create a good-looking document that will please your tutor.
You can get professional online help with essay writing from us today!
Final Thoughts
Writing the COVID-19 essay, as well as any other paper, is a challenge for any student. If you have enough time and writing skills, go ahead! Choose a great topic for your paper and proceed with its in-depth analysis. However, if you are not sure how to write an essay on COVID-19, you should not give up because our writing team is always at your disposal. For many years, we have been addressing the academic needs of our customers helping them to get the best grades for their papers. Over many years of our work, we managed to gather a professional team of writers, editors, and support managers, who do everything possible to make the cooperation with our writing team maximally effortless for you. By ordering your essay at our service, you will receive a customized paper that will fully match your guidelines and expectations. This essay will be authentic because we apply an individual approach to every single order. If you are looking for a reliable writing company to buy an essay on COVID-19 at an affordable cost, feel free to place your order on our platform and we will not disappoint you. Making our customers happy with our work is our top priority!
Don't lose time, order now!
Choose the best topic, set the deadline and get any of your papers written according to all of your demands with perfect timing. We provide individual approach to each client.