Our Affiliate Program
How to Earn Good Bonuses Being a Member of Our Affiliate Program?
Becoming a member of our affiliate program, you will have a wonderful opportunity to earn good bonuses. For example, you can get 10% of the papers placed by your referrals. What is more, every person, who comes by your recommendation and places an order at our writing service for the first time gets a great discount. If you want to earn good bonuses in our affiliate program, you need to create your personal account on our website and place your orders here. Once you have an account on our website, you will become a member of our affiliate program. You will get a unique promo code that should be sent to all people who may be interested in our writing help. You may send this code through your e-mail, social media platforms, chats, etc. The more people use your link and place their orders here – the better bonuses you get. We assure you that the number of people, who may need our writing services it really huge. Thus, it is a wonderful opportunity to earn good money by being a partner of your favorite writing provider. Once the person uses your unique link, our system will note that and you will get a good 10% bonus.
How It Works?
Log in to your personal profile and click on the "Affiliate Program" tab;
The system will generate a unique promo code that will be sent to all your friends and acquaintances as a unique promo link;
Next, you need to copy this link and share it with the people, who may need our assistance;
Once the person uses your link for placing the order, our system will notice that;
A discount for the first-time customer will be applied manually and you will receive your bonus automatically.
Make sure to provide e-mails of all people, who may be interested in purchasing our writing help in the "My friends' e-mails" section. An affiliate link will be sent automatically to all the e-mail addresses provided. Besides, this link will be accompanied by a short explanation of our writing services.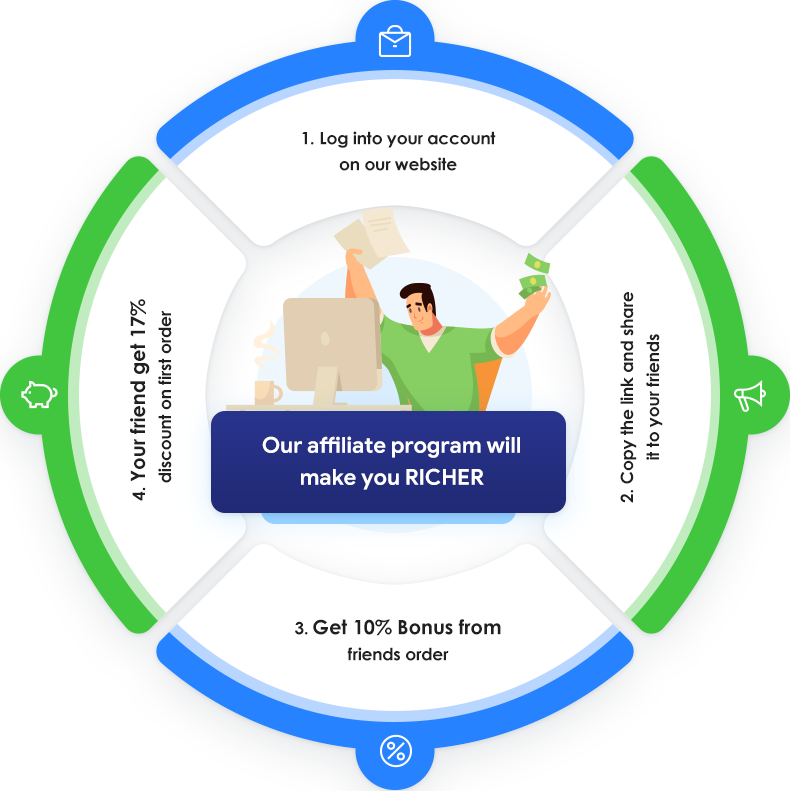 If some of the people, who received your link decide to use it, they will get a special 17% discount on their first order placed at our service. Such a discount is provided exclusively for the referrals to express our gratitude for their loyalty and trust. The discount will be applied automatically, so there is no need to take extra actions. If any of the people from the list use your link, you will get a 10% bonus from the order price. You will be able to use this money on your orders placed at our service. Isn't it great?
What Makes Our Affiliate Program So Great?
Our company has an excellent reputation among the students because we provide them with high-quality papers;
We have a team of qualified support managers, who can assist our customers with all of their inquiries 24/7;
Our prices are truly affordable;
The rules of participation in our academic writing affiliate program are pretty clear and transparent;
We have a great number of returning customers because they highly praise our writing service for our professionalism and honesty;
The security and confidentiality of our customers are guaranteed.
Only imagine! To join the FreshEssay.net affiliate program and earn good bonuses, you should only send a unique promo link to everyone you know. That's it. Once the people will follow your link, you will start earning good money. 10% of the order price will be sent to your personal profile. Being a very reliable and trustworthy writing provider, we highly value our customers and want to express our gratitude for their loyalty and trust.
Dear affiliate, we assure you that your decision to join our writing service affiliate program will become one of the smartest decisions in your academic career. We assure you that your friends and classmates will be absolutely satisfied with your recommendation because they will get a wonderful chance to improve their academic performance at a very reasonable cost. So, what are you waiting for? Participation in our affiliate program is pretty easy and convenient. Tell other people about all the benefits of cooperation with our writing platform and earn a good commission!