How to Write a Hook for an Essay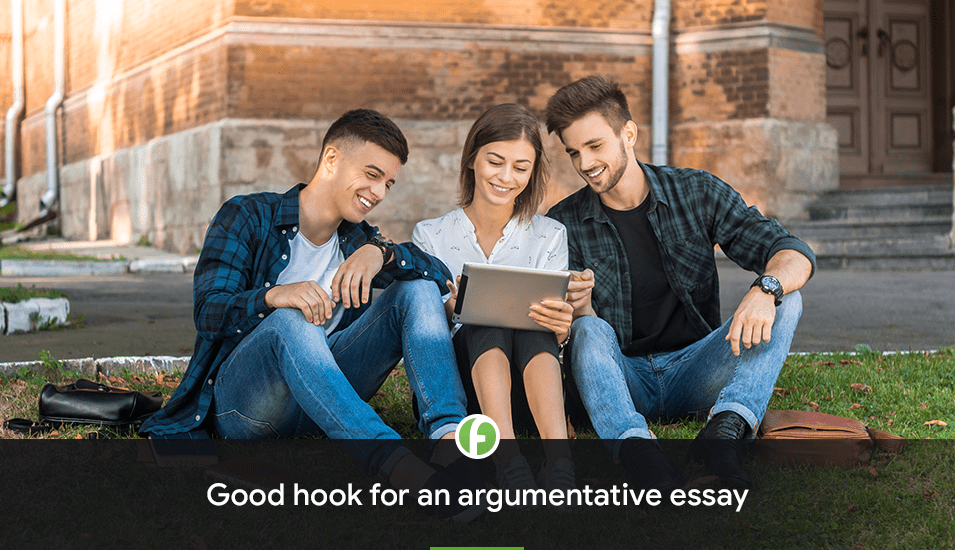 Before you understand how to write a hook for an essay, you need to figure out what a good hook for an essay is. Have you ever wondered why some essays are successful and earn good grades while others seem too boring? Of course, many things should be considered when writing a paper. However, there is one aspect that is usually overlooked by many students but, nevertheless, plays a huge role in essay writing. It is called a hook. You will be surprised, but a good hook is the first thing you see in the essay. Basically, it is the moment when you decide whether you want to read the essay or not. If the writer uses a good hook, you will definitely get interested. However, if the hook is bad or the writer used it incorrectly, you will probably put the essay aside. As you can see, the importance of a good hook cannot be underestimated.
Imagine that you are a well-known travel blogger. In our age of free access to any information, if the blogger does not engage the reader with the first two lines, most probably, the article will not be read. Noteworthy, when it comes to academic writing, it is also very important to make up a good hook that will grab the readers` attention.
A blank sheet of paper, a blinking cursor, and nothing more. This situation is familiar to students, as well as to people who earn money by writing articles and reviews. Writing the introductory paragraph can be even more difficult than dealing with the huge volume of material and data interpretation. Writing an introduction is a very complex process indeed. First and foremost, it should be concise and understandable. In fact, the most challenging thing about writing the introduction is that it should clearly demonstrate the writer's ability to intrigue. So, how to engage the reader in the first paragraph? How to start?
Why Is It So Important to Have a Good Start?
So, the task is clear, the topic is selected, and the deadline for the essay submission is determined, but creative inspiration disappears somewhere. Sounds familiar? In order to learn how to start an essay, beginners need to know a few rules that will help compose great essays putting interesting ideas into correct sentences. First of all, it is necessary to remember: the shorter the first paragraph is in the article, the flashier and effective it is. As you know, the main goal of any text is to attract the attention of the reader. For instance, a great option is to joke or shock the audience with some statistics or an amazing fact. However, in the latter case, one must be sure that the information is actually exclusive and intriguing. The second thing you need to know that without a clear task, the text will turn out to be embarrassing, thoughts crumpled, confusing and, most probably, incomprehensible to the reader. Having set a specific task and problem, the author will address it in the process of writing the text constantly answering the question: how to solve this problem? After reading the article, it should become clear what to do with a particular problem and how to continue. If from the first lines, the reader is immersed in the essence of the article, they may be afraid of a large pile of information and just quit reading. Therefore, it is so important to correctly "warn" the reader about what they can learn from the text. Finally, the introduction must end with a certain phrase, which will be recognized as a message for further reading. As you can see, it is necessary to find the right balance and understand what information should be included in the first paragraph of the essay.
Writing a Good Essay Start: Helpful Suggestions
Don`t know how to write a hook for an essay or even a whole introductory part? Keep reading our guide and you will learn many helpful suggestions. A good first paragraph includes several sentences. The first sentence grabs the audience and makes the readers pay attention to the article. The following two or three sentences are rather informative as they aim to formulate the problem, tell the reader about the text, etc. The final one or two sentences explain the idea of the text, talk about its value, promise some outcome. You may use this formula as it is pretty helpful for writing good introductions in five-paragraph essays.
One more method of the beginning of the article was invented by the famous copywriter Joe Sugarman. This approach is called a "slippery slope.". It is universal and suitable for starting both regular publications and advertisement texts. According to this concept, the first sentence is as short and unsaid as possible. It should ask a question, prompting the reader to read the second sentence in search of an answer. The second sentence reinforces the intrigue, transferring the reader to the third sentence.
The beginning is an important thing in every area of human activity. The significance of the beginning of the book or essay is also enormous because the reader is free to put the work away at any time. If the beginning is bad, rest assured that the reader will do it immediately. Since ancient times, writers have been trying to start their books in such a way as to impress, interest, stun, or puzzle their readers. In our dynamic age, the role of the effective beginning increases because of an overabundance of information and a chronic lack of time. Therefore, the ability to "hook" the reader from the first pages, from the first paragraphs, and even from the first lines is particularly important today.
Tips on Finding Inspiration
To help you understand the role of a hook in an essay, we decided to examine some hooks for argumentative essays and their features, as well as the common mistakes that do not allow to start the essay well.
A common mistake of many students is that they suggest some hook and then forget that it is a part of the essay. Indeed, it is a huge mistake because, in a good essay, all parts should be connected to each other. Thus, if you suggest some hook, it should be related to the following text. It should explain it, interpret it, help understand it correctly, etc. In other words, if you want to reach your goal and engage your reader, you have to demonstrate clear bonding between the hook and the following essay.

One more important thing to consider is the correct style and tone of your opening lines. You should always keep in mind the nature of your paper. It means that when you are writing a physics research paper, engaging your reader with a personal story from your childhood would be quite inappropriate. However, if you are writing a blog article, some memoir from your childhood that sounds interesting and engaging is a good choice. The hook should always be accurate and strong.

Not considering your target audience is also a great mistake. If you overburden the first lines of your essay with the unknown terms and concepts, most probably, your reader will not be interested in following your ideas.
No matter what strategy you choose, you have to be very attentive keeping in mind that the first impression from your essay will greatly influence the grade. After all, pay attention that the primary goal of your hook is to cause some emotions in your readers. Thus, entertain your audience, surprise it, frighten it, make it smile, and you will be able to grab their attention.
How to Turn a Fact into a Hook?
Considering everything you already know about the hooks, you probably realize that they should be exciting, interesting, or inspiring. An interesting fact yet unknown to others can also be a great hook. You may find the necessary facts in newspapers, blogs, magazines, official reports, academic journals, interviews, websites, etc. Pay attention that these sources should be up-to-date and relevant. Only when using a credible source, you can be sure that the information is accurate.
Follow the Common Tips to Write a Good Hook
The studies suggest that the reader needs only approximately ten seconds to decide whether the article is worth reading. To maintain engagement, the reader`s interest needs to be nourished constantly. The point is not always about what you write about; it is much more important how you do it.
According to statistics, a person determines the usefulness of the material within the first 5-7 seconds. An important role is played by the first paragraph, which is also called the "lead." Its primary task is to captivate the reader so that they could stop and "swallow" the text from the beginning to the end. If the lead is dull and boring, the text usually fails.
A very important principle is connected with the very concept of lead, the principle of the inverted pyramid, which states that the most interesting and important information should be placed in the first paragraph. At the same time, it is not a dogma. There are many ways to make a lead catchy, so let us consider these methods. To make your hook both interesting and informative, follow the simple tips given below.
Pick up a good topic for your paper. It is very difficult to write a good hook for your essay if you are not interested in the topic. If the professor allowed you to select the topic on your own, feel free to look through the recent articles, TV shows, or news to find out what subjects are interesting to people.

Before you write a hook, brainstorm the ideas. Make a list of points you want to introduce in your paper and think about each of them. Then, pick up the most interesting ones, and make an essay outline. We assure you that by knowing what is your essay about, you will be able to write a great hook.

Pay attention that instead of living its own life, your hook should be an integral part of your text.
There are many other secrets, but, as a rule, they become known with writing practice. It is not necessary to follow these rules unconditionally as they only give a hint to those who have a temporary creative crisis, find it difficult to collect their thoughts, or just do not know how to begin.
How to Write a Hook for an Essay? Things to Avoid
Below, you will find inefficient essay hook examples:
Common clichés. Do not join the team of authors without imagination, who have no idea how to start an article so that it immediately raises interest among the reader.
For instance,
Mobile technology has greatly facilitated the life of a modern person.
Today, new technologies are developing with incredible speed.
Having good health is very important.
These statements have already become so familiar to everyone and cause nothing but boredom.
Commonplace is another leader among common mistakes.
For instance,
There are no identical people in the world.
Each of us cares about health.
Women are different from men.
Thanks, Cap! As a rule, such trivial phrases are often found in cheap texts for low-quality blogs. For serious publications, they, of course, are not suitable.
Complex intricacies. Another common mistake is to make the first sentence extremely difficult to understand.
For instance,
In the light of total globalization, the issue of the rationality of the sharing of information resources becomes relevant, which, in turn, is of increasing value to the international information community every day.
All these things bore the reader and force them to interrupt reading.
How to Write a Hook for an Essay? Efficient Methods to Start
Finally, when you already know what is a hook in the essay, let`s provide you with some examples that will help you understand the subject better:
Nothing catches people at the beginning of the article better than a shocking fact. Give statistics or some interesting facts, and the person will definitely read your text.
Examples:
In the United States, about 20 billion diapers are disposed of annually.
Scientists have found that people cannot dream when they snore.
According to statistics, 1.5% of people on the Planet have red hair color.
The questions are also good hooks because people want to answer them at a subconscious level, so this involves them in reading. If the question is intriguing, it is just great.
Examples:
Did you know that up to 4 years old Einstein did not know how to speak and he was considered a retarded child?
Do you want to get passive income?
How much time does it take you to take a bath?
One of the best tricks is to start the article with a provocative phrase that evokes certain emotions, most often negative ones, among certain groups of readers. However, remember that if you cause a negative, then you must then reduce it to zero.
Examples:
All Madonna fans are idiots.
If you are not an alien, you will read the following sentence.
It is so stupid to work for someone.
Another cool option to start an article is to do a little test. People love to conduct experiments and learn something new about themselves known only to them.
Examples:
Check which type of personality you belong to.
If you answer five simple questions you will find out what your greatest strength is.
Before you continue reading, take a short test to see if you make typical mistakes in the English language.
People love it when the author shares their observations or experiences, especially if this experience is personal. Basically, this way of starting an article is similar to a story, with the only difference being that the narrative comes from the first-person perspective and can be very emotional.
Examples:
I want to tell you a story that happened to me two months ago.
I was not the most handsome guy at school, but I had something that made girls literally fall in love with me.
Conclusion
Readers love stories told by interesting and unusual people. It is the first line of the article that helps understand whether the writer is good. The author's voice is in a special vocabulary, intonation, construction of phrases used by the narrator. Many years ago, when people did not have access to much information, the choice of what to read was not that difficult. However, things changed. Due to the present-day pace of life, the authors do not have much time to warm up the audience. Readers want to receive the necessary information immediately. If the hook sentences do not confirm that the article contains the necessary data, the reader quits reading. To bring you a good grade, your text should have a clear structure and the striking beginning should emphasize its value. However, there are some things that should never serve as the hook for your essay.
We do hope that our efficient tips will help you understand how to write a hook for an essay. Pay attention that only a good hook is not enough for writing a good paper. You should also make in-depth research and write a flawless paper. However, if you lack efficient hook ideas, you can always contact our professional service and ask for assistance. By delegating this task on the shoulders of our professional writers, you will greatly contribute to your academic performance because our specialists know not only how to make a hook but also how to write other parts of the essay. Following the highest academic standards, they will provide you with a great masterpiece that will bring you the highest grades in your college or university. So, do not waste your time and place your order now! The paper ordered here will not only boost your academic results but will also help you improve your proficiency!