Tips for Writing a Quote in an Essay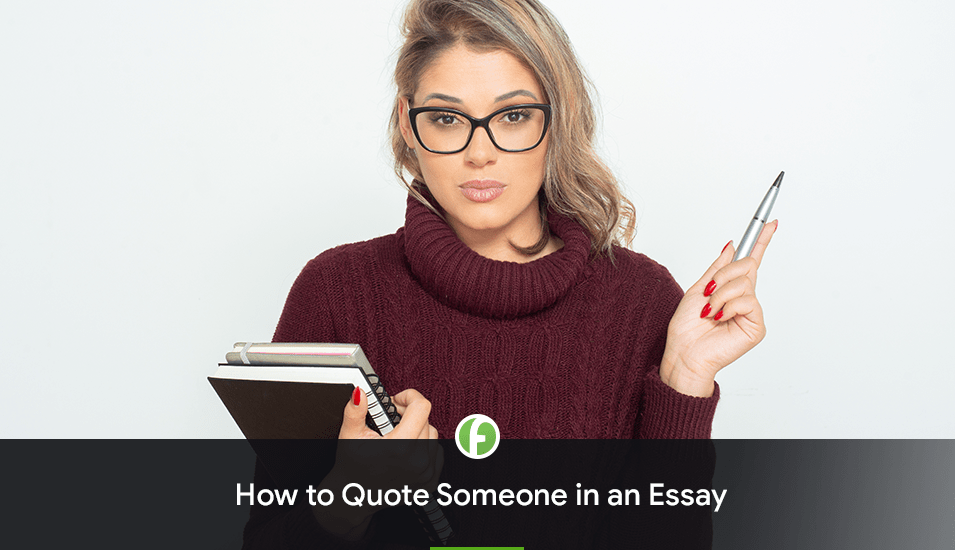 Not sure how to quote someone when writing an essay? When writing a paper that contains an argument or opinion, it is important that you support your ideas with evidence from various sources. When the individual being quoted is an authority, it lends credence to your thesis statement. However, you must know how to quote someone in a paper based on certain citation guidelines; otherwise, your essay could be considered plagiarized.
Regardless of the style you use when writing your assignment, they all require the use of proper citations whenever you are quoting the work of others. This cannot be stressed enough. In high school, you might not be expected to understand how to quote somebody due to inexperience with writing essays. Your teacher will point it out, but it is extremely unlikely that you will get into trouble. But in college, it is an entirely different matter. It is important to learn how to put quotes in an essay so that you do not face consequences from an academic dishonesty committee. Aside from knowing how to quote a person in an essay, you should cite it in a reference page at the end of the paper. For this article, we will help you figure out how to quote someone in an essay.
How to Begin an Essay with a Quote
When writing an essay, it should start with an introduction that catches the attention of the reader. One of the most effective ways to do this is to use a quote that is funny, surprising or thought provoking. It sets the tone for the rest of the paper and gives the audience a reason to continue reading it.
Choosing the right quote and understanding how to include it in a seamless manner is a great way to accomplish your objectives. When thinking about how to quote someone, it is important to avoid using clichés or quotes that everybody is already familiar with. Unless you find a popular quote that is completely relevant and works perfectly for your topic, nobody wants to read another "Keep calm and…" meme. Here are a few approaches you can take:
Surprise the reader by using a quote from somebody who you would never have guessed would say something like that. However, verify that they really did say it.
Quote someone who is not a famous movie star or musician. That has been played out.
Take a quote that everybody knows, but question whether it is true or not. Or explore it in ways that others might not have considered before.
Do some research and learn more about the context in which the quote was stated. For instance, if the individual said it during an interview, read more about that particular segment of the interview to find out what the broader discussion was about.
Also consider the audience.
Are you quoting somebody who they would be familiar with?
Could the quote be perceived as inappropriate or otherwise offensive?
If you know how to write a quote somebody the right way, it can really help you engage the reader. No matter what quote you decide to use, make sure that it enhances your paper and does not distract from it. If you choose a quote that has nothing to do with your topic, it will leave the reader completely baffled.
How to Use the MLA Quotation Style
When using the MLA (Modern Language Association) formatting style in an essay, you need to indicate the writer's name, as well as the number of the page you have taken the material from (for printed sources). When quoting poems, the number of the page will be replaced by verses. As opposed to APA style, you are not required to mention the year of the citation in the paper itself. However, you still have to mention the date in a comprehensive bibliography section at the end of the paper.
Quoting brief fragments
When using MLA guidelines, a passage that includes fewer than 4 lines of narration or 3 verses of poetry is considered short. If you decide to use something that fits this description, you should follow these guidelines: 1) Use double quotes 2.) State the writer's last name, and 3) put down the page number. There are two options in terms of name placement; you can either put the writer's last name before the citation or include it in parentheses following the citation. The page number needs to be indicated at the end of the quote, but no "p" is necessary.
Remember that before you write the quote, you should make a few comments beforehand. This will provide context and avoid confusing the reader. For example, mention a few things as you state your point and then add the quote to reinforce it. After the quote, mention the last name of the writer and the page number in parentheses. Finish up with a period. Here is an example:
Some experts are concerned that movies "are becoming too focused on special effects at the expense of good storytelling" (Fitzsimmons 36).
Quoting long prose fragments
According to MLA guidelines, if a passage contains more than 4 lines of narration or 3 verses of poetry, it is considered to be long. If you decide to include such quotes, it needs to be inserted as a standalone text. Furthermore, you will not add quotation marks. The citation is indicated through using a line of text along with a colon. Only the first line needs indentation, which should be done so one inch from the left side of the page. It should remain double-spaced. End the quote with a period, the writer's last name, and the page number in parentheses.
Here is an example of how to do this:
In her enchanted novel "The Dough Children," the author discusses the short, dreary lives of dough children, pointing out that once they are baked and animated, the way in which they suffer cannot be avoided:
If you take satisfaction in eating the children made of dough because they are delicious, keep in mind that they can feel every bite you take of them. The pain is something that can be described. But, yes, they are indeed delicious and that is really unfortunate, at least from their end. (Knobs, 13)
If you are using quotes that include more than one paragraph, you should use block citations no matter how long each passage is. You should also indent it one inch and a quarter. When moving to a new paragraph, use ellipses like this (…) to end the previous paragraph.
Quoting poetry
Whether you are quoting the full poem or a part of it, the original way in which the verses are formatted needs to remain the same. This will allow you to express the words in the way they were originally intended. To illustration, consider this example:
Johnny Diggle Dix expresses something so inspiring in his poem, "Doritos for Breakfast Again":
I might be out of eggs,
I do not have any sausage,
I am completely out of cereal,
But the cupboard is still stocked with Doritos. (13-16)
Insert or omit words in citations
You might consider doing this if you want to express important meaning from a quote while removing any points that are not related or unnecessary to get your message across. Here are some ways in which you can accomplish this:
Use the [ ] brackets to insert your own words to provide more context:
Dingle McCringleberry, a renowned philosopher, stated, "Some people [the stupid kind] think they are so smart, and yet they cannot even screw in a light bulb, which is stupid" (29).
Use ellipses (…) when you want to take out words that are not relevant to your subject. You can do it like this:
McCringleberry thinks that the most ineffective way to evade the cops is by "closing your eyes and hoping they do not see you" (48).
Quoting more than one writer
If you are using a quote that includes information written by multiple sources, you will need to use commas along with "and" between their names. Here is how you would do this:
Based on the findings of several researchers, bacon is a "wholesome food that should be eaten at every meal" (Poe, Diggy, and Goobers 21).
Quoting Internet articles
When quoting passages from online articles, you will do things a little differently since there will not be any page numbers to cite. Nonetheless, there are ways around this. For example, use details such as the author's name, the date the article was posted, or the title of the article. Here is an example of this:
A certain movie critique claimed that Steve Segal is "the most impressive actor of all-time" (Blabbersmith, "The Greatest Movie Actors").
The noted businessman Ewe Bumbleburps stated on his popular blog that "The key to success is knowing who is gullible enough to give you their social security number" (2019, "Ewe's Best Ways to Bilk People").
Limited time offer
15%OFF
your 1st order with code:
first15off
How to Use the APA Quotation Guidelines
When using APA (American Psychological Association) format, you will include the author's last name and page number, just as you would in MLA formatting. However, you should also mention the year the work was published and use "p" to signify "page."
Quoting brief passages
When a passage is fewer than 40 words, your citation should include the last name of the writer, the publication year and the page number (including "p."). Here is an example of how it should look:
As Jujubee (2011) argues, "eating food is one of the most effective ways to stay alive" (p.19)
Jujubee notes that, "people who eat food live longer than those who do not" (2011, p.21).
He also states, "Eating vegetables and fruits is more nutritious than simply eating air" (Jujubee, 2011, p.210)
Quoting a long fragment
When quoting longer passages according to APA guidelines, write it as an isolated text. In other words, begin the citation in a new row. Furthermore, you should indent this text half an inch from the left side of the page. Then you should add the entire passage within the same margin. If the passage consists of multiple paragraphs, each additional paragraph should be indented by a further ½ inch. The citation should be double-spaced. As with the shorter passages, you will include the writer's last name, the year of publication, and page number. You can either do this at the beginning of the citation or within it. Here is an example:
Billbob's research (1921) reached the following conclusions:
Goats are evil indeed, but they are not as clever as you might imagine. The best way to deal with goats and their frightening stares is to simply walk away. Just walk away and do not turn around. (pp. 21-39).
Paraphrasing fragments
If you are paraphrasing a passage based on APA guidelines, you should mention the writer's last name, the year of publication, and page number. Here are a couple of examples:
Galapazoik-Delacruz claims that bilking people out of their retirement accounts is an easy way to make money (2001, p.12)
As noted by Galapazoik-Delacruz, there are no excuses for not getting on the phone and pretending to be from the IRS (2001, p.28)
Quoting passages with more than one author
When citing a passage that was written by two or more authors, you should use the ampersand (&) between last names. In addition, the author's names should be cited in alphabetical order. Here is an example:
The study revealed that "individuals who watch a few YouTube videos obviously know the law better than any lawyer or judge" (Delacruz-Galapazoik & Galapazoik-Delacruz, 2015, p.339).
Quoting works from the Internet
If your quote comes from an online source, you should include the writer's last name, the date the work was published/posted and the paragraph number (as opposed to the page number). Here is an example:
In his article, DirtMcGurt argues, "The voices in my head are loudest during the night" (2018, para.18)
If the article does not include the name of the author, just use the title of the article instead. Furthermore, if there is no indication as to when the article was posted or published, just note "n.d.". Here is an example:
According to the findings of the 20 year research study, the nation's dogs are, in fact, very good boys and girls indeed ("Who's a Good Boy?" n.d.).
Buy High Quality Formatting Help for Students
If you are having a difficult time formatting your essays and research papers according to the proper style such as MLA or APA, the best solution is to buy our formatting services. For an affordable price, we will make sure your writing assignments adhere to all of the requirements. This is a tedious task that can take you hours to accomplish. Given how much time and effort you already put into writing the paper, who wants to go back and make sure it is formatted properly? Thankfully, when you leave this task to our experts, you will not have to worry about it. Keep in mind that we also provide full-length custom academic work. So if you want a specialist to write your paper along with formatting it correctly, just get in touch and we will be happy to help. We can handle short essays, articles, book reviews, legal briefs and even thesis and dissertation papers! No matter what you need, we are ready to assist!