How to Write Observation Essay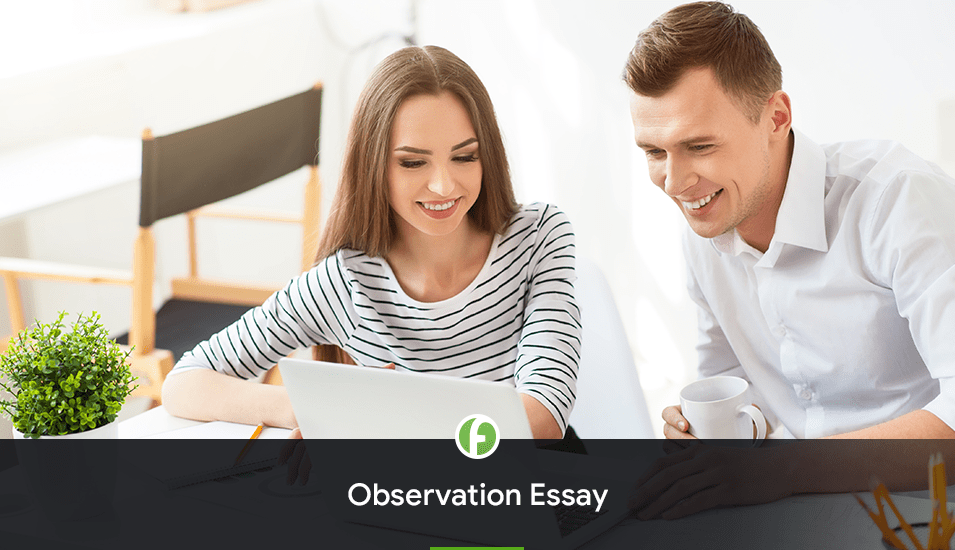 Have you ever been dreaming of painting a beautiful picture? Unfortunately, only a small number of people have the necessary skills and talent to draw pictures or undertake any other creative activities. Well, you should not get upset as there is a superior alternative, i.e. an observation essay. Such papers can be compared to pictures with the only difference that instead of a brush you will use words and expressions to create them. Certainly, this type of paper also requires the one to possess the whole set of skills. First, you need to have a either an excellent memory or a vivid imagination. Second, you have to be good at writing. Finally, you should know the peculiarities of the observation process. Of course, you do not have to remember every last detail of the matter, but being able to notice vivid details is a must. Otherwise, you will not be able to compose a worthy piece of writing. If you desire to find out how to write an observation essay, we offer you to use our helpful guide. Moreover, we can provide you with fascinating observation paper examples so that you do not have to browse the Net looking for some tips.
What is an Observation Essay?
It is an unusual piece of writing. Though it relates to academic types of papers, it is better to refer it to creative writing. Observation papers let readers sense the atmosphere of the depicted matter. Owing to the vivid details and descriptive words used by the writer, readers may feel themselves present in a specific place. It is necessary to state that such papers can be written on various topics. For example, you may describe the day which you have spent with your friends, a rock concert, etc.
Specifics and Purpose of Observation Papers
A book review can be considered an example of an observation paper. This is one of the options.
According to the definition, an observation paper is a work presenting the observations made after viewing an, event, phenomenon, etc. The purpose of such a work is to provide a detailed description of the matter with the help of vivid details. One should keep in mind that an observation paper is not a research one meaning it has to be written differently. An observation paper should include the following items:
Topic

Atmosphere

Scenery
This essay has to be produced in the first person singular even if you are describing someone else's experience. Additionally, the present tense is to be utilized so that readers can feel themselves the participants of the discussed events. Do not be afraid of expressing your feelings as they make the work more appealing.
Bear in mind that it is essential to stick to the guidelines about how to write an observation paper. Professors usually provide information about the number of words your work has to contain. If no data about the word count is given, stick to the 1500 words limit. As to the description of the matter under consideration, it should include colorful details to make such a lengthy piece of writing interesting.
As to the reference style, if it is not specified, you should pick one of those that are widely used in the educational establishments, i.e. Chicago, MLA, APA, Harvard, or AMA. Your choice depends on the academic discipline you are writing a paper in and your degree. The best option is to use the style with a formal structure. The papers written in the majority of formatting styles contain such structural components:
Title page
Headings
Fonts
Indents
Justifications
Number of pages
Spacing
Emphasis
Footnotes
Bibliography
Note that you can always receive valuable assistance from our specialists in case you cannot create such an essay on your own. Do not delay reaching us!
Advice on Producing an Observation Paper
Some students encounter considerable difficulties in preparing such a paper. We do not want you to face some issues in the course of creating your essay. That is why we offer you to follow the instructions provided below. In this way, you will be able to complete your assignment quickly. Thus:
Ponder over the topic. Our experts can give you some thrilling observation paper ideas.
Think about the event, person, or a place which you would like to observe. Then, find the most suitable item.
Begin the process with writing down essential data such as a date, location, time, and other significant facts.
Note only the issues which you can see around. Leave interpretation to the writing stage.
Examine your field notes and start making observations. Produce an outline using your observations.
Begin writing your work using both your observations and field notes. Remember to create a thesis statement and make proper introductory and concluding sections.
Proofread your text and read it aloud to ensure it is coherent.
As it is seen the process of crafting such an essay is not complicated. Finding an interesting subject is what causes serious problems. Luckily, our professionals have compiled a list of superior themes which you may use for your work.
Outstanding Observational Essay Topics
What should I observe? This is the first question that comes to students' mind before they begin dealing with their observation paper. You need to pick the issue which you are curious about.
Take a look the subjects given below and select the one which you consider engaging:
What makes people become shopaholics?

Reasons for skipping classes.

Do online games have any influence on health?

What causes jealousy?

The connection between sport and leadership qualities.

Is music effective in treating some illnesses?

The desire to earn a lot of money. Why is it so strong?

Is it important to be aware of the art of communication?

Tongue tattoo. What is it like?

Is it difficult to drive a bus?

Can planes be viewed as the safest transport?

Paragliding. What is it?

Connection between children's future and parents' views?

Observing climate changes.

Parachute jumping. The first time.

Meeting dangerous animals. What feelings do people experience?

Travelling alone. Describing one's feelings.

Turning an enemy into a close friend.

Difference between a new generation and a previous one.

Why are people not so healthy now as they were before?
Unique Observation Essay Example
We relate observation papers to creative writing. It follows that there are no limits or stringent rules for creating such works. However, it does not mean that you may neglect professor's instructions and write your essay the way you want. Apart from the tips provided above, we want to give you a superior example of an observation paper so that you do not face any challenges when writing your work.
The process of creating an observation paper is time-consuming and requires one to be particularly attentive. On the other hand, it can be thrilling if the chosen topic is extraordinary. You should know that an observation paper can be created on any subject. Your main task is to make a careful observations, jot down essential points, and then transform the available material into an excellent piece of writing. Still, if you believe that producing this type of essay is arduous, consider placing your order on our website. We can provide you with a spectacular paper.