Fall Writing Ideas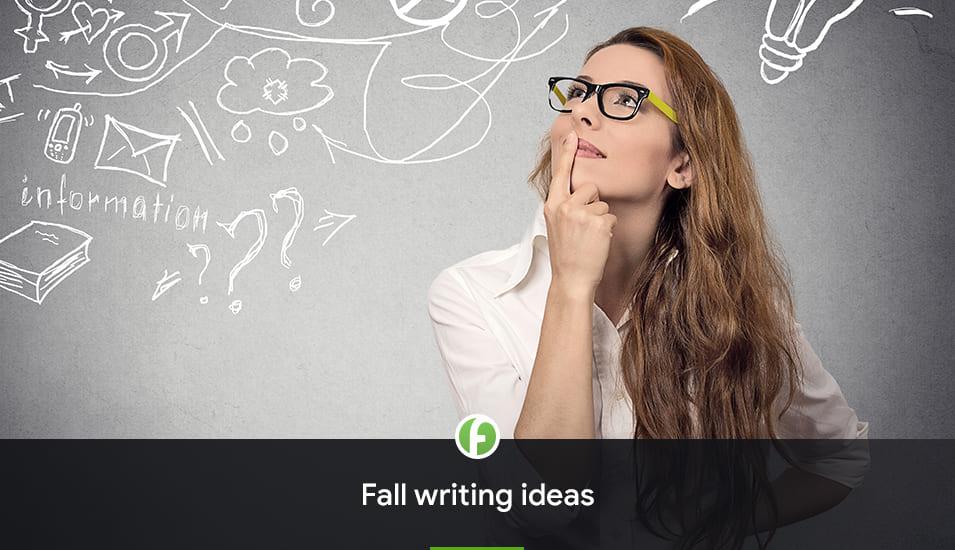 The Most Inspiring Fall Writing Ideas
Most probably, you do not like autumn. It is the time that goes after the marvelous summer vacation, sunny weather, and various adventures. It is also the time when the students go back to school. However, do not forget that it is the time for Halloween and Thanksgiving. Besides, we assure you that autumn is the best time to develop your writing talent because taking your notebook and pen sitting with a cup of hot tea is the best way to avoid the daily routine. But what to do if you are missing the summer heat and lack the autumn essay ideas? If you are a determined and inquisitive student, you will probably find fall writing ideas everywhere. However, if you cannot find these ideas on your own, look through our helpful tips and boost your writing talent.
The Best High School Writing Prompts
Prompt 1. Writing an autumn season essay: the colors of autumn. Look into the window. You will see an old tree with the leaves of different colors: the vibrant yellow ones, the hot red ones, and even the green ones resisting the new season. The autumn likes to paint the trees in different colors and it brings a genuine pleasure to the human eyes. All you need to do is forget about your problems and feel this fantastic moment. When writing your autumn season essay, do not forget to use the most vivid and descriptive language.
Prompt 2. Refer to human senses. Write your essay about fall season on some of the topics given below and do not forget to include your experiences, feelings, and emotions.
The sights of autumn;
The touches of autumn;
The sounds of autumn;
The smells of autumn;
The tastes of autumn.
Prompt 3. Think about your childhood memories. Which ones are connected with autumn? Perhaps, you have met your best friend in autumn? How old were you when it happened? Remember your feeling and emotions on that day. Pay attention that such an essay requires a thorough brainstorming process. Thus, take some ten minutes to remember about the happiest or the saddest moments from your childhood. Watch the photos or talk to your parents and they will help you remember what event has impacted you the most.
Prompt 4. October is the month when you celebrate Halloween, go from school under the rain, and gather with your friends for watching interesting movies. Try to write a short poem combining all your emotions and feelings that will help you capture these feelings forever.
Prompt 5. Do you have your favorite hobby that is related to autumn? Maybe you like to take your friend, two cups of pumpkin latte, and go to the park talking about your plans for the future? If yes, then try to write about it. You may write a warming title such as "One day in autumn" or any other that will help you describe your feelings.
Prompt 6. Imagine that the year is the human life span. Describe autumn as a specific period of human life.
Prompt 7. Write down the list of "autumn words." Looking into this list, you will be able to make up many interesting autumn topics. This list can include the following words: pumpkins, autumn, yellow, green, branches, vibrant, beautiful, ghosts, turkey, family, Indians, popcorn, beans, cooking, apple pie, snowflakes, rake, forest, aroma, leaves, cinnamon, gifts, Thanksgiving, etc.
Prompt 8. Do not forget about Thanksgiving. For many people, Thanksgiving is a wonderful opportunity to meet all the loved ones and spend one evening in a year together. Playing interesting games, cooking the tasty turkey, and watching traditional movies, people get closer. Writing a Thanksgiving essay is one of the greatest fall writing ideas as it helps the author express gratitude for everything good in life.
More Fall Writing Ideas
Autumn Persuasive Essays
It's time to go back to school. Children should forget about fun and focus only on the study;
The fall is the worst season of the year. Prove the opposite.
In the fall, new TV shows begin. Are you for or against television?
In the fall, people usually set their clocks one hour back. Explain where there is a need for that.
Autumn Expository Essays
Many activities refer to a specific season of the year. What activities are related to autumn?
What should everyone know about Halloween? Explain how it is celebrated in different countries.
Autumn Compare and Contrast Essays
Autumn or fall. Which title is correct?
In autumn, both the basketball and football seasons begin. Discuss the strengths and weaknesses of each sport and tell about your preferences;
In farming, people plant in spring and harvest in autumn; in school, children begin to study in autumn and go to their vacations in spring. Investigate this issue through the methods of comparison and contrast.
Autumn Narrative Essays
Describe your feelings and emotions in autumn? Do you usually feel stress or depression?
Present your reflection on fall and its impact on human life. Provide examples from your own life.
Write a tale from your childhood about one of the autumn days at school.
Discuss your grandmother`s journey into the autumn of her life.
Autumn Descriptive Essays
Describe the first autumn rain. What makes is different from spring rain?
Describe the day-by-day change of trees in autumn.
Make a search for fall pictures and try to find out what makes them similar. Focus on the styles, colors, and atmosphere.
We do hope that our autumn writing prompts will help you create amazing essays that will bring you the expected grades. If your professor allowed you to choose a free topic but fall writing papers is not one of your strengths, just look for the successful examples online. There are a lot of autumn essays that will help you understand how a good piece should be written. Use these samples to boost your writing inspiration and create a unique and original piece.
Read also: 100 Fun Writing Prompts for High School
We do understand that sometimes, writing about autumn may be boring and challenging. However, we assure you that by boosting your inspiration, you will be able to tackle the most sophisticated topics. After all, you may try Googling for the thanksgiving writing prompts high school or other fall writing prompts. Do not forget that autumn is a magical season as it is the time when people reveal their identity and become honest with themselves and surrounding people. Who knows, maybe this autumn will become a turning point in your life as well?