How to Write an Academic Article: Useful Tips
If you want to know how to write an academic article, you will find the following tips very useful. Keep on reading to find out more about academic writing.
Set a Clear Goal
Before writing an academic article, you should clearly realize why you are doing it. If you can answer this question, it means that you are self-determined and your purpose is clear. In case you are not sure about it, you should set a goal that should be followed. Ask yourself why do you want to write an article? What different do you want to make? Are you doing it because you want to make a contribution to some specific area or is it just a part of your research work?
The other important issue is to realize what journal you are writing for. It is very important because each journal has its own format and requires articles that fit their style. Consequently, you have to be able to make your article suitable to meet all the requirements and expectations in all areas: content, format, structure, writing style, and focus. In order to reach it, you are recommended to get familiar with articles of other scholars who have been published in the journal recently.
Having a clear understanding of what you are doing and why you are doing it will help you reach the desired result. It will help you both make specific achievements in the research field and improve your self-confidence towards your future work. If you are motivated enough, it will be easier for you to get the work started and, eventually, done. Academic article writing is a long process and it is important not to lose motivation during work.
Get Idea about Academic Writing by Reviewing Articles in the Journals
Start your work by checking some articles from the field you are working in. Check how they are written, formatted, and structured. It will give you a general understanding of how to write a journal article. Pay particular attention to the abstract. Usually, it is started with providing a rationale for your research and ends with statement of contribution. Consequently, you need to provide a similar structure by clearly stating why you are doing your research and then providing information about the contribution your research can make to the existing knowledge.
In addition, check how other sections are written, what components they consist of, how topic sentences are incorporated into the main text, and how the argument is provided. Check the articles and compare them in terms of their structure and the approach taken to their writing. After that, define which style is the most appropriate for you and for the specific journal you are writing for and try to stick to it. In addition, if the articles are close to your research, you can even cite some of them in your work.
Write Your Article
How do you start an academic article? This question is often asked by writers. Our recommendation is to start with an outline. The outline is an important part of writing as it forms the backbone of your future paper. Still, if you do not like wasting time on outlines and you can easily complete your paper without an outline, you can go to write at once. It is up to you what approach to choose, but outline helps not to miss anything in the process of writing.
Think in advance about how many sections will be in your article, how long they will be, what other subsections may be needed, etc. It will help you divide the word count between sections proportionally.
Get the Feedback
Usually, feedback is provided at the end of work. However, to make sure that you are on the right track, it is recommended to ask other people competent in the field to give their ideas about your work at the early stages. If you want to achieve a positive result, be ready to make numerous revisions of your work.
Develop Writing Goals
One of the most important writing tips for an academic journal is to plan your time effectively and set clear writing goals. A clear goal means that you have to limit yourself intentionally in order to reach maximum productivity. Without a doubt: "Completing a chapter before Sunday 12:00" sounds better than: "Completing a chapter sometime next week". Such an approach may seem a bit too harsh for some writers but it is a good way to get the task done properly and on time.
Write with Other People
It does not mean that you have to work on your article with other researchers. It only means that you are recommended to communicate with other people who are also working on their articles for the journals. In such way, you will be able to pay attention and even solve some issues that seem frustrating to you. Besides, you may get a necessary understanding of how to write properly and avoid mistakes.
If you work step-by-step, you have a higher chance to do much in a short period of time. Many writers believe that working on many things at once will bring better results than doing bit for a bit. It is a wrong judgment and it may eventually lead to missed deadlines.
Make Short Preparation before Writing
This step is merely motivational and it can set the right tone for your work. Start your writing by answering some simple questions, such as: What articles have you already completed? What are your short and long-term goals? What are you going to achieve? etc.
You can plan your work by writing down the goals. For instance: "I will complete writing Introduction till Monday 14:00" or "I will write 600 words of chapter 1 till 20:00 today". Such self-motivation leads to success and timely completion of daily portions of work.
As it was mentioned before, the most important is to set specific goals, as they help track the progress of your work and evaluate the extent to which it is done. Such approach towards work will help you see the real situation and adjust your plan considering all the delays and possible complications.
Make Improvements Based on the Feedback
If the final version of the paper returned to you with numerous comments and requests for revision, do not panic and get upset. It is a normal working process. In such case, you will have to check the comments and define what areas need improvement. You can make a list of revision comments starting from the most to least serious. If your paper is rejected, it does not mean that it is a failure. It means that some areas can be made better for your article to become perfect.
If you find some comments unjustified or confusing or if you think that some parts do not have to be revised, you should discuss such areas with other researchers first to see what they think about it. You can also discuss the comments with the publisher and explain why some areas are what they are and why the changes do not seem to be valid.
Remember that revision is not a task for a far future. You need to do it as soon as you can and resubmit your article in the shortest terms possible.
Remain Persistent and Self-Confident
You may have these qualities in your arsenal already. If no, you need to develop them because it is the only way you can get the task done properly and ensure that you make everything right.
Put Your Well-Being at the First Place
Among all academic journal writing tips, this one may be called the most important. There is no use of an article you cannot complete because you are sick or exhausted. Do not work overtime. Plan your work in such a way that you also have time for rest. Still, do not postpone with your work at the same time. You can relax and have all time for you after your work is done.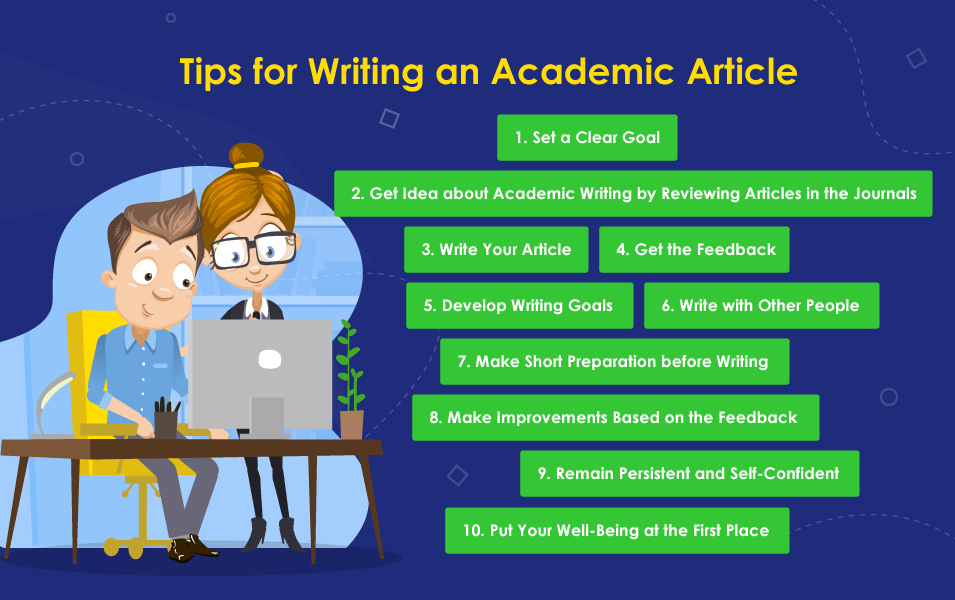 Common Articles Writing Mistakes
How to write an academic article for publication? Many students who lack such writing experience ask this question. It is not surprising that some of them or even most of them make similar mistakes during the writing process. Despite some personal issues the writers may have with their articles, there is a list of three common mistakes many students do. These mistakes can be easily avoided if you know about them. So, here they are:
Inappropriate writing level of a paper
The problem here is that many writers think that when they insert headings from a dissertation into a paper written at a high school level, it will look more professional. Headings like "Hypothesis" may not be appropriate for the article and it will not make the paper look better but rather ridiculous. Some other writers think that taking chapters from a dissertation and making a few changes in it will make a good research article. It may be so in rare cases but in most instances it does not work because a good research article is an article written from scratch. If you want to reach success in writing, you have to make sure that you create each its section separately. In such way, you will be able to connect all parts of the paper logically and make a good piece of writing.
Lack of properly formulated purpose
Many writers of research articles provide superb pieces of writing. They present interesting ideas, flawless content, they format their papers in the best manners but there still remains place for a big "BUT". But for what? Some writers fail to answer this question in their papers. Such papers are easy to understand but, at the same time, it is difficult for the readers to comprehend why it is done. In order to avoid this mistake, you need to make sure this question is properly answered in the article.
Abstract duplicates the introduction
Remember that abstract and introduction are two different sections and they have to contain different information. During submission, abstract is more important as it presents the work and the decision to publish the article or not may depend on it. So, allowing enough time for abstract writing leads to success.
Order best academic article written by a seasoned writer!
Ask for Professional Assistance
Articles writing is a challenging task. If you do not know how to write an academic article properly, you may have serious problems with completing your task. Our services will help you get the article you want. We have rich experience writing academic articles and we will definitely meet your expectations. Do not hesitate to ask us for help if you need it because professional assistance is a great chance to get your work done in a fast and professional manner.
Don't lose time, order now!
Choose the best topic, set the deadline and get any of your papers written according to all of your demands with perfect timing. We provide individual approach to each client.