Writing a Comparative Essay: Effective Strategies for Successful Writing
There are many types of essays that are assigned to check students' progress. A comparative essay focuses on analyzing either similarities or differences of the subjects in question. It can also be referred to as compare and contrast writing. As a rule, it has to emphasize one of the two aspects (similarities or differences). It depends on you whether the paper is more like a contrast or more like a comparison essay.
Writing a comparative essay can be a challenging assignment for many students, especially when they have to simultaneously cope with the other writing tasks. Moreover, usually, a comparative essay entails some two phenomena or things that you have to compare and contrast, so be sure that you know where to begin. If you do not have the faintest idea where to start with writing a comparative essay, be sure that you can rely on the comprehensive guidelines provided by our professional writers. Find them enlisted below. Here is a detailed step-by-step manual how to write a comparative essay.
If You Want to Learn How to Write a Compare and Contrast Essay, You Need to Take the Following Steps:
First, choose two or more issues you are going to discuss. You should also ascertain that they possess a number of qualities in common as well as differences they share. In such a way, you will have enough material to organize your paper.
You need to draw up a detailed plan that outlines all the vital elements of your essay so that you can focus on them and keep to the point.
Organize the paper in a proper way. You need to choose the structure for your comparative essay. There are two efficient ways. The first approach suggests that you concentrate on the similarities in the beginning and then move to the differences. This is a point-by-point arrangement, and it can be done in reverse order. The second approach suggests that you discuss the qualities of one issue first and then pursue with analyzing the other issue. The same qualities are usually compared when using this method, which is referred to as a block arrangement of ideas.
As it can be seen from the compare and contrast essay examples, you should write an introduction when everything else is done. The introduction should end with a solid thesis statement that reveals the aim of writing and makes your argument.
The body paragraphs should comply with the basic structure of the essay. It means that it should be either point-by-point or block arrangement of ideas.
It is crucial to end your paper with a reasonable conclusion. Summarize all the discussed ideas and restate your thesis.
To ensure you have succeeded and made no mistakes, put your paper aside for a few days and then come back to proofread it for minor errors and logical inconsistencies.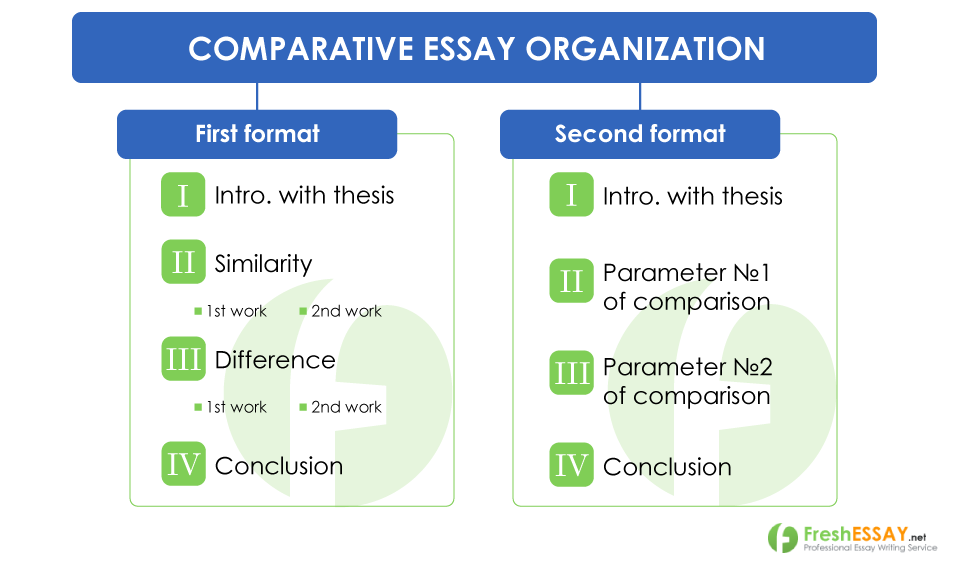 When starting to work on your paper, it is useful to check out some sample essays that will help you get a general idea of what it has to look like. In a compare and contrast essay example, you will also notice that the topics for discussion vary considerably. The writer decides on the theme that is worth to be presented in a compare contrast essay. It means that you can choose to write about anything that people might have various opinions on – nature, sports, health, science, food, hobbies, art, politics, gender issues, lifestyle, etc. However, make sure that the issues or notions that you compare or contrast belong to the same category, type, or kind and have something in common. You cannot write an essay comparing an earthquake to hosting the Olympic Games.
How to Properly Choose the Criteria of Comparison?
An effective comparison paper does not merely consist of the properly selected items of comparison and contrast but also contains properly chosen parameters and criteria of comparison. When it comes to two objects, events, persons or phenomena, you can always come up with an infinite number of comparisons if you are creative enough.
Still, successful and effective comparative writing defines the comparative parameters in terms of importance for you as a writer and of your target audience. In other words, when writing a comparative essay, you need to come up with such parameters of comparison that would make your readers interested in your paper. Therefore, it is essential to consider your target audience and also be sure that you place the comparison parameters in terms of their priority. As such, the first body paragraph should start with the most important or the most appealing aspect of comparison.
For example, if you have got an assignment to provide a comparison paper on two historical epochs, it would be recommended to compare them in terms of specific values, paradigms or worldviews.
Professional Assistance with Comparative Paper Writing
Academic paper writing may be sometimes challenging due to numerous reasons. Nowadays, with the help of different custom writing services, it is not a big problem to find a high-quality paper since you can easily order it from professional writers who have all the required skills to make sure you get a premium-quality order. Apart from custom writing help, you can also find some sample writing and also learn how to write a comparison essay. In this case, this kind of assistance will be cheaper or even free of charge and you will get the general idea about the essay structure and mode of organization. One of the biggest drawbacks of using paper samples is that many students do not merely look at the general structure but are also tempted to copy and paste some information into their own essays. Normally, such tendencies lead to poor academic performance as students are often accused of plagiarism. More so, teachers can spot when students were working on the assignments on their own and when they have used previously written comparative essay structure.
Overall, when working on a comparative paper, a student should have sufficient time for searching information, conducting a literature review, and then organizing the information in a logical and concise way. Therefore, in order not to delve too deep into each of the subjects, it is recommended to choose a few aspects, or parameters, of comparison and focus on them.
If you have stuck in a situation when you cannot help with comparative writing on your own, be sure that you can rely on our professional help. Our custom writing service is a reliable and expert company that can deal with any comparative essay format and a type of paper of any complexity. When you seek help from us, be sure that you will cooperate with reliable and responsible team of writers who are willing to satisfy your needs. Our writers fully understand peculiarities and specifics of each paper type, so be sure you can rely on them.
If you do not know what is a comparative essay or how to structure some other academic papers, address us without hesitation and we will help you with any case. We provide only authentic papers that are written from scratch according to specific instructions. As such, we will brush up your paper so that you receive high grade.
Can You Do My Comparative Essay for Me?
In order to demonstrate how we work and to make you more familiar with the paper quality you can expect from us, we have shared the approximate paper sample on the company's website. Still, if you do not want to follow a specific pattern of the provided samples, you can buy a comparison and contrast paper from our company's professionals and guarantee that your paper will be authentic. Your paper will be written with a professional approach and it will be unique and creative in content. Moreover, regardless of the type of essay you order from us, you can be sure that it will be free from plagiarism.
Once you start cooperating with us, be sure that you will not only enjoy professionalism of our writers but also confidentiality policy so that none of your friends nor group mates will know that you have been using custom writing services.
In case you are not fully satisfied with the quality of writing offered by your assigned writer, you can send a revision request and state what needs to be adjusted. If you use the revision option, be sure that you should not change the original instructions.
When you place orders with Freshessay, be sure that our company can provide professional assistance to you when it comes to different types of papers. Particularly, you can get help with papers on politics, psychology, philosophy, sociology, and other disciplines. Furthermore, apart from brilliant quality of writing, be sure that the paper will be properly formatted and cited.
You can also ask for a plagiarism report if you need a proof that your paper is original. Thus, you can submit your custom written paper to your professor without worrying.
Buy a Comparison and Contrast Paper at Freshessay.net
If you want to succeed in your academic writing, do not wait long – order a paper from us right now and be sure that you will get a high-quality piece of writing. We can help you with any types of academic papers and we can even provide you with comparative essay introduction examples if you have difficulties starting your comparison essay. If you need help, do not hesitate and click the "Continue" button on the website and contact us immediately.
Here Are Some Examples of Compare and Contrast Essay Topics:
Which holiday brings more fun: Christmas or Halloween?
How thin is the difference between anorexia and dieting?
Which do you find better: watching a movie or reading a book?
Choosing a school: private vs. public
Classical and modern art: the differences in their meaning and aesthetics
Mountains vs. beach: where to spend your vacation
Contrarieties between the notions of discrimination and prejudice
Which one would you choose: country life or city life?