Agriculture

Undeveloped country choose between Pakistan and Afghanistan
Undeveloped Countries - Pakistan
Pakistan is a developing country and is 27th worlds largest economy with respect to purchasing power. In the 60s, Pakistan was considered a classical economy as well as endowed with large labor force, strategic trade routes, and rich natural resources. Nevertheless, the country has failed to realize its full potential economically due to a history characterized by corruption and inconsistent policy measures, integrated by unstable foreign investment, costly boarder tensions, poverty, and population growth. Regarding economy structure, services sector contributes approximately 55% of the GDP of Pakistan, whereas, the remaining 45% is made up of commodity-producing sectors (Lopez-Calix, Srinivasan, & Waheed, 2012). In comparison to manufacturing sector, which contributes 18% to the Pakistan GDP, agriculture remains the major sector that contributes 20% to the GDP (Lopez-Calix, Srinivasan, & Waheed, 2012). The remaining percentage of the commodity-producing sectors constitute of energy and construction (gas and electricity distribution). In 1991, under the leadership of Nawaz Sharif, the liberation of the economy has begun. The 1998 nuclear tests lead to economic sanctions by the international community crumbling the economy of Pakistan with an overall debt of 99% of GDP in 1999 (Lopez-Calix, Srinivasan, & Waheed, 2012). Under a novel leadership of Musharraf, the Pakistan economy experienced economic and structural reforms, lowering the cost of conducting business in the country, and thus, Pakistan positioning itself among the fastest Asian growing economies. This paper will discuss the social and economic indicators of Pakistan.
Social and Economic Indicators
Greater openness to global trade is widely believed to have a positive impact on the income of the underprivileged as well as per capita income through growth avenues (Shahbaz & Islam, 2011). The economic theory describes the effects of international trade on poverty and income distribution. The theory of international trade suggests that improved openness to foreign direct investment (FDI) and trade through the impact it has on economy should minimize poverty and ensure equal income distribution in developing nations (Shahbaz & Islam, 2011).
Income Distribution
The distribution of income in Pakistan has continued to be a burning economic problem (Schreiner, 2010). For more than three decades, income inequality in Pakistan has not been consistent. The GINI index of income distribution increased to 0.41 in 2005 from 0.36 in 1972 (Schreiner, 2010). Therefore, there was an insignificant decrease in the Gini ratio trend in the period of sampling. Trends in income distribution in Pakistan during 1972 and 2005 fluctuated around 0.40% (Schreiner, 2010). In the 70s, Pakistan experienced a widened distribution of income. The percentage of the underprivileged 20% in overall income reduced, while the percentage of the richest 20% amplified (Schreiner, 2010). From 2004 to 2005, the contribution of the poorest 20% decreased to 6.37% after a decline in the 90s, although in the 80s a slight improvement was witnessed (Shahbaz & Islam, 2011). During the sample period, the share of the richest 20% overall income increased reaching 50.02% in 2004 and 2005 (Schreiner, 2010). See figure 1 below.
Figure 1: Trends in Income Distribution in Pakistan (1972-2005)
GDP
In Pakistan, the Gross Domestic Product (GDP) increased to 4.24% in 2015 compared to the initial years (Lopez-Calix, Srinivasan, & Waheed, 2012). The Pakistans GDP denotes 0.44% of the global economy. The GDP of Pakistan averaged $63.30 billion from 1960 to 2015, and it ranked 43 among the 196 nations published, hence, reaching an all-time low rate of $3.71 billion in 1960, and high of $269.97 billion in 2015 (Lopez-Calix, Srinivasan, & Waheed, 2012). The Pakistan GDP as reported by World Bank Group. See the figure 2 below.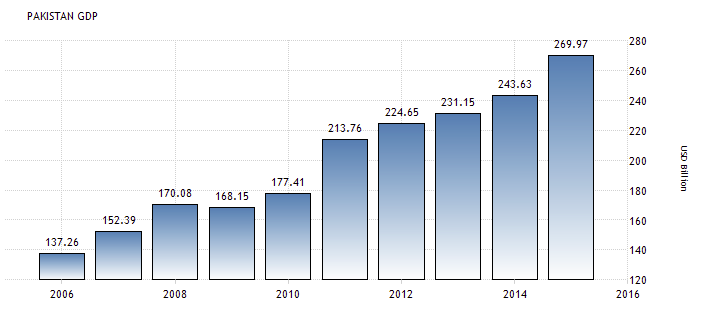 Figure 2: The Pakistan GDP
Health Measures
Over the years, Pakistan has progressed towards acquiring striving health targets; however, the pace has been slow due to low investment into health sector by the government (Bhutta, et al., 2013). Pakistan still suffers from high population growth rate, inadequate health care facilities, burden of non-communicable as well as communicable conditions, and high maternal and infant mortality rate (Bhutta, et al., 2013). In terms of the infant and maternal health, sluggish growth of indicators, morbidity, mortality, and malnutrition are the primary concerns on the way towards realizing development objectives (Bhutta, et al., 2013). There extreme difference between urban and rural health levels remains, with limited sanitation and health facilities in rural regions leading to an increased incidence of poverty. Only 55% of the population has access to health services, decreasing from urban to rural regions, especially if related to maternal and infant health (Bhutta, et al., 2013). However, the private sector has compensated by establishing small clinics, although the absence of regulations keeps the care quality at sub-standard levels. In Pakistan, the common causes of death are diarrhea, malaria, viral hepatitis, and acute respiratory infections. Throughout the 2010 floods, numerous reports of dengue fever and cholera were reported. With respect to AIDS, it has spread significantly according to researchers (Bhutta, et al., 2013). This is mostly caused by the increasing rates of non-marital and commercial sex, minimal condom usage, and syringe re-use. In Pakistan, according to the UNAIDS data, almost 97,000 individuals are living with HIV, whereas, other research claims the number is less than half (Bhutta, et al., 2013). The government of Pakistan dissolved the Federal Ministry of Health in 2011, to make provincial health department responsible for the implementation of health programs in public sector.
Education Measures
The federal budget showed a 2.07 percent allocation to a combination of social protection, health, and education, in 2010-2011; 3.4 % for economic affairs, 22.1 percent for defense, and general public service was allocated 69.5 percent (Kakar, Khilji, & Jawad, 2011). An official source indicated the Pakistan federal government had assigned 2.5% in 2006-2007, 2.47% in 2007-2008, 2.1% in 2008-2009, and 2% in 2009-2010 of GDP to education, thus indicating a significant decline in the trend of allocation (Khattak & Khan, 2012). The rate of literacy in Pakistan is at 57.7%, with 45.2% females and 69.5% males (Khattak & Khan, 2012). In comparison to rural areas, where the rate is 49.4%, literacy remains higher in urban regions with 73.2% (Khattak & Khan, 2012). Education indicators are described through disparities across gender and regions (Afzal, Rehman, Farooq, & Sarwar, 2011). Primary enrolment in rural regions are minimal for matric classes as well as middle school, unlike the urban enrolment, however, the indicators for both rural and urban are similar (Kakar, Khilji, & Jawad, 2011). Since there is lack of laws that regulate compulsory education, most children drop out after primary school.
Percentage of Poor
In Pakistan, incomes continue to be unequally distributed with no political commitment to minimize poverty (Alam, 2010). According to the federal report of FY2005 and FY2006, there was a decrease in poverty incidence from 30% in 1999 to 22.3% in 2006 (Schreiner, 2010). In the last six years, no official poverty estimates have been released. However, the weakening conditions in general economy are expected to escalate the poverty level.
Vulnerability to Climate
Agriculture accounted for a larger percentage of the Pakistan GDP until the 1960s (Alam, 2010). In the existing GDP, agriculture employs 45 percent of the labor force and accounts for 20.9% of GDP (Lopez-Calix, Srinivasan, & Waheed, 2012). The most common vital crops are sugarcane, rice, wheat, and cotton averaging to 30 percent of the overall crop production. On the other hand, livestock contributes 55% more than the combination of major and minor crop production (Alam, 2010). Over the previous years, the growth in the agricultural sector has not changed. This is the result of a lingering drought that triggered a significant reduction in the production of major crops. In 2003-2007, the sector bounced back with an overall growth of 4.6% (Alam, 2010). The growth of this sector remained constant over the previous four years, while the major crops experienced poor growth. Additionally, the livestock sector has boosted agricultural growth, due to its resistance to pest attacks and weather conditions. Pakistan continues to be a net food importer despite its intensive farming practices.
Access to Electricity
Considering its population, Pakistan has progressed in terms of electrification in the past 20 years. A recent report conducted indicated that 60% of the average population of Pakistan accessed electricity in 1990, following 80% in 2000, and by 2010, 91% accessed electricity (Abbas & Choudhury, 2013). Until 2010, 98% of Pakistan urban population and 88% of rural population had access to electricity (Alter & Syed, 2011). With respect to the shortage of access to electricity, Pakistan is rated 16th, following that 15 million of Pakistan residents were lacking electricity. See figure 3 below
Figure 3: Access to electricity
Relationship of Pakistan with Organizations
Pakistan has existing loans from the World Bank and IMF (Anwar, Shabir, & Hussain, 2011). In 2013, Pakistan secured 6.6Bn USD from IMF to evade external disbursements crisis. The loan aided in supporting Pakistan program to stabilize the economy and boost the development as it improves the social safety to protect the underprivileged populations (Anwar, Shabir, & Hussain, 2011). The country's debt by the end of 2016 has grown by an immense 79% (Ali, 2014). The loan term such as privatizations of national corporations faced resistance. Currently, Pakistan cannot handle an increase in borrowing cost, since the $30 billion debt due in few months this year. Additionally, 77% of the country's $124 billion fiscal year 2015-2016 national budget is allocated to spend on principle repayment on loans and interests (Ali, 2014).
The World Bank approved a 12 billion USD loan for cash-strapped Pakistan to be paid over five years. The funds are to be used to develop education, fight extremism, on economy, and energy. The loan payment is spread over 30 years with a 2% interest rate (Ali, 2014). The initial tranche of WB funds will be used in refinancing short-term, high-interest loans taken by the Pakistan government.
The Pakistan trade officials filed their first World Trade Organization dispute in 2016 in 10 years, claiming dishonesty over the imposition of countervailing duties by European Union on Pakistan chemical polymer shipments utilized in synthetic fibers, beverage containers, and plastic food (Ali, 2014). Currently, Pakistan has demanded bilateral consultations with the 28-country bloc to try resolve the issue prior to officially calling on WTO panel to resolve the EU PET import tariff organization (Ali, 2014). According to WTO dispute settlement rules, the EU has 10 days to answer back to the request of Pakistan, with consultations kick-off within 30 days.
Social Problems Facing Pakistan
Despite Pakistan rich resources, the country has still encountered various social issues since independence as well as undergone a variety of crises (Chani, Pervaiz, Jan, Ali, & Chaudhary, 2011). These problems are manageable but lack of government attention has resulted in these issues increasing with every year. These existing problems include malnutrition, inflation, HIV, severe inequality, war, and political instability among others.
Malnutrition
For the past two decades, there have not been any changes in the occurrence of malnutrition, despite Pakistan populations increasing intake of proteins and calorie as well as availability of per capita food (Alam, 2010). In 1997-1998, the estimated figure of malnourished children was almost 8 million. About 10% of the 8 million were moderately underweight, whereas, 5% of these were severely underweight. The most challenges related to nutrition are various micronutrient deficiencies, iodine deficiency disorders, anemia, protein-energy malnutrition, and low birth weight caused by poor maternal nutrition (Alam, 2010). The unfortunate status of nutrition is believed to be a result of income inequality and mass poverty, as well as gender bias to some extent. The nutritional status relies upon the consumption of balanced diet and availability of food, evaluated through biochemical, anthropometric, and clinical tests.
Inflation
It is a general increase in prices measured across a standard level of purchasing power. With the population of about 16 million individuals, Pakistan has experienced a significant macro-economic growth in the previous years; however, the primary economy issue is yet to be solved. Inflation is among these problems (Chani, Pervaiz, Jan, Ali, & Chaudhary, 2011). The Pakistan government alleges that over the years it has been undertaking numerous measures in order to maintain the cost of essential commodities under control. In April, 2011 the inflation rate of Pakistan was 13.04%. From 2003 to 2010, Pakistan average inflation rate was 10.15% recording a historical high 25.33% in August, 2008 and reaching a low of 1.41% in July, 2003 (Chani, Pervaiz, Jan, Ali, & Chaudhary, 2011).
Human Immuno-Deficiency Virus (HIV)
Even though the predominance of HIV in Pakistan is minimal and if appropriate preventive measures are not taken, there is a threat of its spreading over to the general population since it is highly concentrated among high-risk groups (Bhutta, et al., 2013). Pakistan follows India in the advance of an HIV epidemic with 2 million persons living with the virus thus, expenses on HIV treatment account for 5% of the health care budget expenditures (Bhutta, et al., 2013). There has been a decline in HIV/Aids funding for the first time in 15 years, thus, affecting previous progress. The United Nations reached an agreement to terminate and reverse the progresses of HIV/AIDs.
Severe Inequality
There is an increasing economic inequality in Pakistan, although consumption related poverty and multidimensional poverty such as standards of living, education, and health have plunged. The severe inequality may be attributed to the fact that 22 families are being in control of 66% of industrial assets, with the 20% of the rich consuming seven times more than the underprivileged 20% (Shahbaz & Islam, 2011). Even though the consumption-based poverty has decreased to 29.5% from 57.9%, inequality has still increased between the years 2004-2005 and 2014-2015 (Shahbaz & Islam, 2011). A recent report showed that 9.3% of urban population was living a comfortable life compared to 54.6% of rural Pakistanis who are underprivileged (Shahbaz & Islam, 2011). Pakistan concentrated on the symptoms of inequality instead of the root causes, thus leading to severe inequality. It is essential for Pakistan to be unbiased with monetary and fiscal policies as well to reform key institutions which will aid in tackling inequality.
Political Instability
Pakistan is incapable of establishing a stable political environment due to the absence of social growth, economic issues, lack of stable democratic government, and constitutional conflict (Royan & Sathar, 2013). Even 63 years later, after receiving its independence, the county has failed to free itself from outdated sectarian segregation, and tribal system. Violence in politics has undermined Pakistan's democracy. Various parties and their leaders lack patience needed for a democratic system (Khan & Saqib, 2011). The most vital purpose for political instability is the economy. Pakistan has a chronic lack of expenditure for education and infrastructure, deficit financing, large income inequality, and high inflation (Khan & Saqib, 2011). Various solutions such as continuity of fair elections and protection of civil liberties and minorities, implementation of the constitution, division of provinces, strengthening the free press, internal party elections, creation of an independent election commission, and reforming the judiciary, will help in reviving political stability of Pakistan.
Writing papers seems to be a challenge? Get help from professional research paper writers!
War
The war on terrorism in Pakistan has been severely destructive over the years. The yearly death rate due to terrorist attacks increased from 164 in 2003 to 3318 in 2009, totaling to 35,000 Pakistanis murdered in the years 2001, September and 2011, may (Khan & Saqib, 2011). The existence of terrorism in Pakistan is a result of social-economic causes such as dissatisfaction, food insecurity, unemployment and poverty, illiteracy, and injustices. In addition, political factors such as non-democratic set-up, lack of law, and failure of law enforcement agencies to execute its duties among others also leads to terrorism (Khan & Saqib, 2011). Pakistan war on terror has led to economic loss in tourism and agricultural sectors, decline in foreign direct investments, and a decrease of manufacturing cost.
Conclusion
As a developing nation, Pakistan is considered a country with classical economy due to its rich natural resources, strategic trade routes, and immense labor force. However, it still faces the challenge of corruption, unstable foreign investment, large population, poverty, and tensions which hinder its economic growth. Additionally, various social and economic indicators including income distribution, GDP, health, education, poverty, investment climate, have a significant impact on the development of the Pakistan economy and they have managed to reduce poverty level of Pakistanis population. Pakistan undergoes various social challenges such as malnutrition, inflation, HIV, severe inequality, war, and political instability, however, it maintains good relations with international organizations which aid in overcoming these problems. Presently, the country's relationship with the World Bank and IMF is intact as the country is still servicing an existing loan from the two organizations.
Don't lose time, order now!
Choose the best topic, set the deadline and get any of your papers written according to all of your demands with perfect timing. We provide individual approach to each client.
Related essays