How to Turn the Dorm Life Anxiety Into Pleasant Memories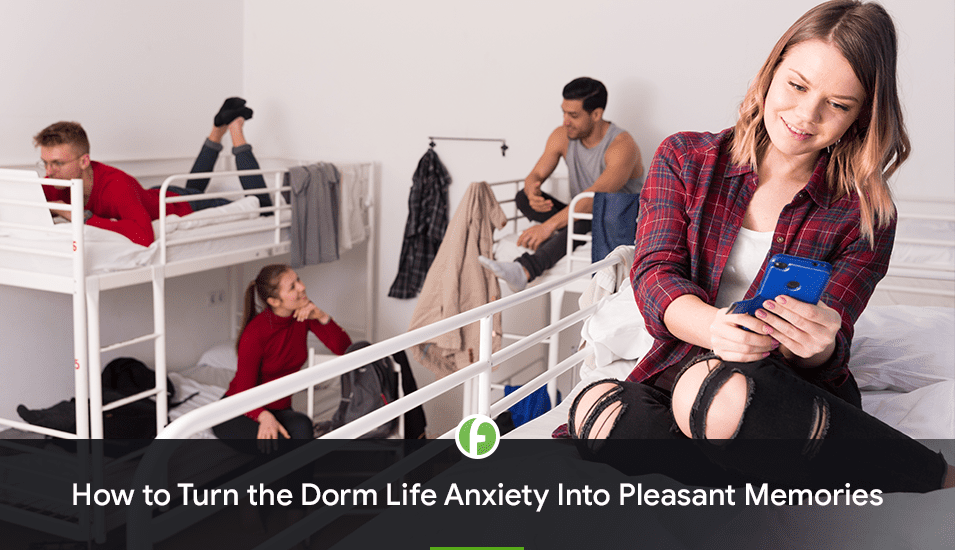 You may feel different emotions when facing everything which concerns college. Mostly, young collegers can't wait to enter all the activities accompanying the studying and after-studying process, although each of them has to realize the possibility of various surprises which can often come along. To make your freshman being easier and prepared, here are some of the keys to acquire.
The Survival Tips for Creating a Favorable Atmosphere in Your Place
Experiencing the beauties of shared accommodation is not an easy thing to overcome, especially in case you 've never had such an experience before. Of course, living together with someone doesn't always mean something bad or unpredictable. On the contrary, this girl or boy may appear to be very pleasant and welcoming or even become your friend. What needs to be done, though, is to follow a few recommendations for a productive and harmless chummery.
The Recommended Steps to Get the Most From Your Dorm Life
1. Stay reasonable at choosing the necessary gear.
You've probably guessed that the area which you will be able to occupy isn't as big as you wish. Take your time to think thoroughly about all the essential dressing stuff you are going to take with you. Remember that you don't need to wear everything you have. Keep in mind as well that you will need to take care of everything you take yourself, that is, to clean and prepare your clothes somewhere outside your room.
2. Think twice about the content of your luggage.
Now, we are talking about all the things you take in general. Leave everything you can do without at home – small toys, presents, souvenirs and so on. It will not only make your bag less heavy but will help to save more room for something really important that needs to be close at hand. Follow the notes in a corresponding record made beforehand.
3. Develop common instructions for all the members.
These are the things which may become a barrier to mutual understanding. Have a talk with your roommates as regards general duties, habits, and schedules. For example, ask each other at what time each of you falls asleep, leaves the room in the morning, what actions or behavior in general may annoy and irritate any of you etc.
4. If you want to keep the area neat…
…you will probably have to maintain the order not only within those few square meters you occupy. The decades of experience in the students' shared living habits prove that people don't percept the notion of cleanness and order equally. Consequently, some may need it more than the others, and vice versa. Chip in to collect all the necessary items to keep the dorm room tidy.
5. Try not to be a grumbler or a shill.
Among other things, student life presupposes acquiring the skills of tolerant and understanding communication and living together in peace with one another. That is why try to be more patient or pay less attention to small things or learn to manage some little problems on your own. It can happen, though, that the person you live with causes too many troubles or is not a decent and honest one. In this case, you definitely have all the rights to tell a resident assistant about the tough situation created. But first of all, don't haste. Discuss the existing issues with the people causing them, and then decide whether something can be done with your mutual efforts.
6. Take care of your savings and not only that.
It is a normal thing if you discover facts about people and experience life situations of a different character, both good and unpleasant. There exists a common knowledge that we often cannot get along well with those people who are the closest to us. It also may happen that someone can't stand this person after living with them for a while. Although, it can certainly be just one of the stereotypes and erroneous beliefs because you can't know your close friend or relative so bad to not be able to predict his or her possible way of life, values and behavior. If you don't agree with it, then you two are not that close. So, what's it all about? The thing is, you have to be careful with everyone because there's no guarantee that someone you trust completely is not able to be a thief.
7. Mind the untouchable territory and objects.
No one is fond of someone's unallowed entry to their private space, even if there is a strong friendship between such people. Keep your place and things safe from undesirable visitors together.
8. Discuss what people can visit your dorm room.
You have to make sure that your roomie is okay with the fact that you will spend some time with certain people in the room. Talk about the details together.
9. Stay polite and welcoming.
It is better if you feel comfortable with your roommate, that is why it's important to show respect and understanding so that both of you lived your college life without unnecessary anxiety.
10. Know how to be open-minded.
If you've got to live with someone who comes from another continent or doesn't speak your language perfectly, become helpful rather than suspicious. It is a great chance for you to broaden your mindset and discover a lot of fascinating things about way of life and thinking which is not similar to yours.
11. Get to know each other better.
When you manage to share not only the room but also some interests, then you have all the chances to make the dorm life unforgettable and even acquire a new friend who will be there for you if you need it.
12. And the last one. Never forget to give other people what you expect them to give you.
It will be great if these tips become your kind of an ultimate guide to creating a better college life shared with someone else.