5 Effective Ways to Destress When Passing Exams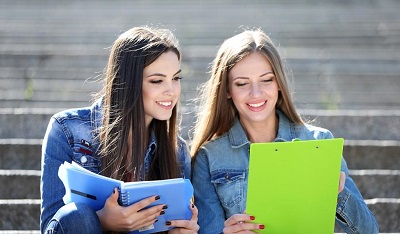 Effective Ways to Destress after Examinations
It is topical for students to find effective ways to destress during or after examinations since the time of intense studying is really tiresome and weary. If you are looking for some specific ways to avoid stress, the article below will be handy for you. Read on and find out some specific ways how to deal with exam stress.
To all of you out there who are suffering under pressure whenever it's time to pass exams, here is a bit of advice on how to relax and calm the nerves. College students and stress have been coexisting way too long, the latter casts a shadow over the students' life especially during finals week. Now, it's a high time to release students from this frustrating feeling!
Make Sure to Study!
If you want to eliminate stress during exams, be sure that you prepare for it well in advance. When you are confident in the material and when you are sure that you can perform well, your stress levels will reduce drastically. This tip may seem obvious but in reality, many students overlook this one and try to search for some highbrow tips and strategies how to study without stress. You just need to identify what specifically brings you stress in the studying process, and if you realize that you are under stress when you have not prepared well, evidently the best advice would be to prepare better next time in order to feel more confident and calm.
Check out how to study without stress:
get to know as much information as possible about the examination formatting and the requirements;
ensure what you are expected of during the exam;
one of the most effective ways to destress is to manage your time wisely and schedule each preparation step;
jot down any important information that you come across in different sources;
when thinking about the exam, focus on success rather than potential failures;
be realistic about your academic expectations and set realistic goals;
practice as much as possible;
balance between studying and rest.
5 Ways to Avoid Stress (+6 New Ways to Destress When Passing Exams)
Be Into Sports

A successful student is the one who can easily switch from intellectual to physical activities. Exercises will reduce the stress level and charge you with energy. Well, if you find that too strenuous, a simple walk in the park will do.
Pamper Yourself
Set goals and pamper yourself having accomplished them. Looking forward to getting a reward is the best way to motivate oneself.
Value your private time
Students' life is always full of activities that will keep you busy most of the time. However, avoid taking up too many responsibilities, otherwise, you may lose control of the things.
Take a Break
With all that workload, it is clear why college students and stress go together. Still, taking few minutes each day to spend in silence and reflect on your life is the right thing to do if you are willing to stop feeling frustrated.
Maintain your workplace in order

Clean your room and workplace from time to time. It has been already proved that messy workplace does not positively contribute to effective and successful studying. Moreover, many people draw a parallel between a cluttered workplace and a person's cluttered mind. So, the next time your mother reminds you to clean your room, do not be so mad at her. If you have mess all around you, it will be next to impossible to concentrate.
To declutter your desk and workspace, please use some of the following recommendations:


minimize the amount of unnecessary objects around your work space. If you tend to store cups, snacks, and other food, get used to the habit of not doing it;
store things in drawers whenever possible. Free space around yourself and try to store the things you rarely use in drawers or in wardrobe;
one of the effective ways to destress is to practice regular cleaning of the room;
take the habit to clean up fast (up to 5 minutes or so) – just to put things in their places – before going to bed.

Reduce time spent using your phone

For many students, it sounds strange but excessive phone usage causes real stress, so if you want to know how to reduce exam stress, try to cut down on the amount of time you spend on your phone on a daily basis. Apart from causing stress, regular usage of phones may also pose a negative impact on one's mental health. Phones distract attention and prevent you from maintaining focus. So, turn off all notification and do not use your smart phone for any other purposes but for studying.
Listen to soothing and calming music
Definitely, one of the most effective ways to destress is to listen to some relaxing music. Prefer classical music, ambient, indie, and other comforting genres that do not add you anxiety. If you wonder how to get rid of exam stress, delve more in the principles of sound therapy and investigate how specific types and genres of music influence on your heart rate, breathing, and the overall state of mind.
Avoid multitasking
One of the core solutions how to get rid of exam stress is to avoid multitasking as it is the main distraction that prevents you from focusing on separate tasks and projects. When you prefer to focus on numerous things at once instead of choosing a single area of focus, be sure that you will not be attentive to any of the things. Moreover, multitasking is the major reason for increased anxiety, stress level, and blood pressure. While multitasking, you have the illusion that you save more time and are more efficient but actually you are not more effective. Besides, the quality of work significantly reduces.
If you suffer from multitasking, first make sure that you get rid of all distractions. Second, write down a list of things that have been planned. By writing them out on a piece of paper, you will at least free your mind a bit and will have a clear vision of what lies ahead and how you should plan your workload. Third, pay attention to the browser you work in – be sure to close all tabs that distract your attention. Last but not least, be realistic about the deadlines.
Prefer dark chocolate to other sweets
When students want to know how to avoid stress during exams, they tend to shift their focus on some other matters and activities. One of them may be binge eating, so in order to foresee the possible consequences and effects of nutritional problems, take a wise approach towards choosing snacks. Dark chocolate is good, as it has been proved by researchers to reduce stress hormones.
Be critical when listening to others
You may hear lots of recommendations how to cope up with exam stress, so make sure that you can filter what is appropriate and suitable for you and what is not. Accept only those pieces of advice that you believe would do you good.
Rest

It is a popular thing with students to stay up late during the finals week to catch up on studying. However, having enough sleep is far more beneficial than cramming the whole night. Poor academic achievements are often blamed on lack of attention, which is a result of sleep deprivation.

It is a misconception that a successful student should be a workaholic who knows no rest. In fact, learning to destress is as important as any other skill. Find your ways to relax whenever the exams anxiety takes over.

If you have not prepared for your exam yet, do not worry – you can always rely on some professional custom writing service, where professional writers will help you deal with the assignment. FresEssay.net is one of such companies that provide top-notch quality service and ensure that you get authentic content at affordable price. Our company has a versatile team of qualified and experienced personnel, where competent writers are there to assist you with any type of writing assignment. You can rely on our help even if you need to pass the exam urgently. We accept orders that are due in a few hours or overnight. As we guarantee premium quality of writing, we also ensure there is money reimbursement in case the paper requirements were not met and you did not get the order you paid for. In such case, you can apply for money refund. However, such cases are really rare as we have a professional team of writers who demonstrate a hard-working and diligent approach to custom writing service.

If you are interested in what types of orders you can place with us, be sure that our writers can cope with any type of the assignment. Moreover, we also deal with a variety of topics since writers on our team specialize in different disciplines and subject areas.
Dealing with Post-Exam Stress
Try to distract your attention from the passed exams and do not think about the stress you have undergone. Just accept it: once the exam is over, there is nothing to be changed about it. You can just derive a lesson from it and improve in the future (for example, prepare better or pay attention to some specific courses). If you are stuck in the ruminating thoughts, use some of the following tips:


Try to let go of the issues and situations you cannot control. If your worries change nothing about the situation, then why wearing yourself out?
Organize a worry break: if the thoughts are overwhelming you, write down everything that causes distress.
Exercise more and try to involve yourself in some workout.

Make sure you have time-off. Shift your focus from thinking about the exam and stress to doing something enjoyable. For example, you may watch some series, movies or just have a walk in the park.
Each exam you take regardless of the result is a learning experience for you. You can learn from mistakes and you can come up with a strategy how to broaden your outlook and how to deepen your knowledge in a specific subject. Moreover, the exam results will reveal your strengths and weaknesses in a specific subject. All in all, do not treat exam results so seriously – they evaluate your level of knowledge but not who you are as a person.
Opt for some gratification.

After the tough and challenging exam, be sure to treat yourself with something new or tasty. You may buy some new piece of clothing or you may go to some cafe or pizzeria, whatsoever. Be sure you get something enjoyable for yourself.